1. Brief Introduction Can master in 1 hour with spray basic conditions.
Features: Through simple and quick spraying process, it can light on the surface of the object at night.
Brightness: Brightness is 2-3 times longer than that of long afterglow fluorescent materials.
Applicable surface: Wood, metal, plastic, glass, stone, paper, cloth and so on.
Using Conditions: Indoor and outdoor
Brightness: 5-20Cd/㎡
Power Conditions: DC3V, DC12V, AC220V, etc.
Color: It can achieve multicolor, but ice blue is the best.
Flash: Circuit controls neon flashing.
Production Investment: Minimum USD100.
Sample Making: Maximum USD500.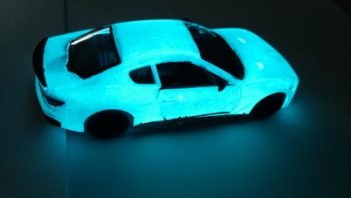 2. Application
Car decoration, Advertisement neon, Safety sign, Furniture decoration ,Building light.
3. Making Raw Materials and Tools
KPT SH Series Materials(Sample USD500/set 0.3-0.5m2):Copper Ink, Protecting Paint, Lighting Paint, Insulting Paint, Transparent Conductive Paint.
Tools(USD100-300):Hair Drier, spray gun, multimeter, UV lamp, inverter, conductive copper tape, insulting tape, knife, filters, sandpaper and etc.
4. Technology Introduction (Finsh in half an hour fastest )
Spray 4-6 times → Hot air dry (60 ℃,2-5 minutes)→ Stick electrode → Connect to power supply
Pattern formation: Colorful images, stereotyped aerial drawings, pattern sheltering spray, color pen drawing, etc.
Video files and technical advice can be obtained free of charge from the Sales Department of KPT company!