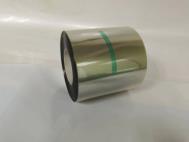 ITO film is an N-type semiconductor material with high conductivity, high visible light transmittance, high mechanical hardness and good chemical stability. It is the liquid crystal display (LCD), plasma display (PDP), electroluminescent display (EL/OLED), touch screen (TouchPanel), solar cells and other electronic instruments transparent electrode most commonly used film material.
Application scope:
① Resistive digital touch screen, analog touch screen.
② Flexible liquid Crystal Display (LCD).
③ Electroluminescent panel (EL Panel).
④ Electromagnetic shielding.
⑤ Frost proof transparent electric film.
⑥ Antistatic.
Performance indicators

ITEM

Standard

Test Methods

The Surface Resistance

100Ω200Ω300Ω

Four-probe surface resistance meter

Transmittance

≥85%

Spectrophotometer

Uniformity

﹤10%

Four-probe surface resistance meter

ITO Thickness

200Å --400Å

Level Gauge

Adhesion

Excellent

Solder leads after plating NiCrAg in 1cm ² area

Add 1㎏ method code ITO film does not fall off

Fine

Solder leads after plating NiCrAg in 1cm ² area

ITO film does not fall off when adding 800g code

Qualified

Solder leads after plating NiCrAg in 1cm ² area

ITO film does not fall off when adding 500g normal code

PET Thickness

90μm 125μm

175μm 188μm

75μm50μm25μm

Micrometer

PET Thermal shrinkage

90μm

125μm

175μm

MD 0.6﹪

TD 0.2﹪ 150℃30min